Husband + Wife Team
Vicki Rulli + Tom Heaphey
Vicki and Tom work primarily from their Springfield, Ohio studio, but often travel to gain inspiration, work on a creative project, learn new things, eat good foods, and spend time enjoying a new place with their daughter.
Everything coming out of Itinerant Studio is made by hand with well thought out materials that add dimension, depth, and character.
Itinerant Studio is a production art studio creating original and limited edition mixed media artwork as well as custom tables using a variety of techniques and materials that serves the design and wholesale trade.
Vicki and Tom are both native Midwesterners. Ohioans. Vicki from Lorain, an ethnic melting pot on the shores of Lake Erie; and Tom from a small farm in the middle of rolling hills outside the small college town of Granville.
Vicki and Tom met in 1998 while working together in international business. They soon realized they were a great team and both had art & photography backgrounds. Together they became creative partners of Itinerant Studio.
The studio has evolved over the years and today they design, create, and make artwork and custom tables in their very cool old warehouse building in Springfield, OH. Special attention is made to creating handcrafted works that are design focused with sustainable materials.
The creative process happens everywhere. Most often over coffee on the patio but also on long drives into the countryside, or when meandering city streets, or when cooking dinner together. Vicki and Tom live a creative life and are always discussing everything from new artwork, to interesting materials, to form, to process.
Both are photographers. Film and digital are part of their equipment. Vicki favors the tilt-shift lens and storytelling via the photograph. Tom is the master of the long lens and creating mood with aperture. Tom is also the talent behind the printmaking, watercolors, and mixed media, while Vicki explores alternative print processes such as cyanotypes.
ARTIST MADE, ARTIST OWNED
ITINERANT Studio is Vicki Rulli and Tom Heaphey. We sign all of our works "Vicki & Tom". Doesn't matter who actually made the photograph, painted the wax, or came up with the design. Our works are what they are because we worked on them together.
Designer Friendly
No Minimums
Sustainable & Wellness focused
Always looking to do good for the earth, humans, & our animals.
Lead times:
2 weeks for artwork
2-6 weeks for furniture
TERMS
First order 50% deposit, 50% prior to shipping
Subsequent orders are Net 30 Terms
Ship:
All artwork comes in custom made crates.
We ship ground & freight depending on size.
Order:
Email orders to: orders@itinerantstudio.com
Contact:
Itinerant Studio
149 West Jefferson St.
Springfield, OH 45506
937-505-9319
info@itinerantstudio.com
Custom. Curated. Artist Driven. Design Inspired.
From a cool warehouse studio in Springfield, Ohio
VISIT ONE OF OUR SHOWROOMS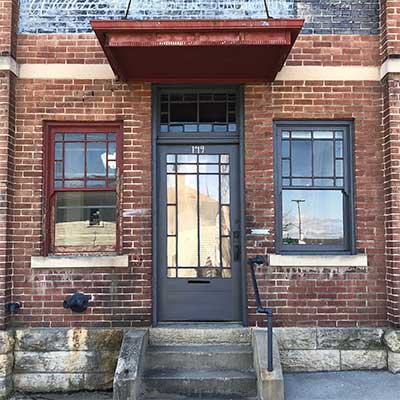 Trade Only –
Studio and Showroom
Welcome to our home studio and showroom!
This is where all of our artwork and tables are designed and made. We have a small showroom that is currently open by appointment only.
Looking forward to your visit already!
149 West Jefferson St.
Springfield, OH
937-505-9319
office@itinerantstudio.com
Trade Only Showroom
Our High Point showroom is always open for the High Point market (April & October) and by appointment, but now with our membership in High Point x Design we are thrilled to be open for First Tuesdays too.
Itinerant partnered with Barnes Custom Upholstery for this collaborative showroom. So now there are super comfortable places to sit while you enjoy our art and tables!
410 N. Wrenn St.
High Point, NC